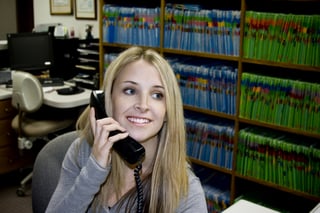 Medical Assistants are in high demand right now. Yet in spite of this, we still get a lot of questions about just what it means to be a medical assistant.
Today, I'm going to surprise you with nine facts you may not know medical assistant certification. Once you see these, you'll have a much better understanding of why the Bureau of Labor Statistics projects 29% growth in this occupation between 2012 and 2022.
1. It's A Great Introduction to the Medical Field
Many medical assistants are people just like you, people who know they're capable of helping others but aren't yet ready to commit to a lifetime of nursing. Being a medical assistant introduces you to the healthcare world without the commitment required of some of the two- and four-year degrees offered by Nebraska Methodist College. Instead, you'll be able to complete your coursework in just one year.
2. The Benefits Can Be Wonderful
Being a medical assistant provides something so often lacking in comparable positions in other industries: stability. If you have a family, then you'll love the regular schedule that's par for the course as a medical assistant. It's pretty common to work 40 hours, Monday through Friday, with nights and weekends off and with holidays not just off, but often paid. Many clinics and health systems also offer attractive benefits packages (view 2015 benefits and pay rate information here).
3. It's A Good Fit For People Who Want to Be Nurses
Once you've been in the medical assistant role, you'll know quickly whether or not a more specialized career in nursing is right for you. The skills you learn can be put to use throughout your nursing career if you choose to go that route, but if not, you'll still find plenty of fulfillment from the many jobs required of a medical assistant.
4. It's A Good Fit for People Who DON'T Want to be Nurses
Some people in our traditional nursing programs discover after a year or two that it's just not a good fit for them. That's perfectly natural. In fact, some people have left nursing or other allied health programs only to find immense fulfillment as a medical assistant. It's a great way to be in the middle of the healthcare world without the specialized skillset required of many other programs.
5. You Don't Work In A Hospital
This is a common misconception. Being a medical assistant doesn't mean you'll work in a hospital (usually). Instead, you'll typically work in a medical clinic. Maybe it's a general practice clinic, maybe it's something more specialized like an ear, nose, and throat clinic. One place you probably won't wind up: a hospital.
6. Your Job Is Quite Different From That of a CNA
Being a Certified Nursing Assistant is a noble calling as well, but it's a calling that's not the same as being a medical assistant. A CNA helps nurses with a variety of jobs, typically in a hospital setting, whereas a medical assistant will often be called upon even when there's not a nurse in sight.
7. It's Actually Many Different Jobs In One
Medical assistants are heavily involved in the day-to-day operations of a clinic. On the frontend of things, you're scheduling appointments, jotting down insurance information and speaking with patients as they come in the door. On the backend, you're taking notes for a doctor, drawing a patient's blood and running an EKG. It's you who helps the clinic run successfully, and no two days will ever be the same.
8. Practice Makes Perfect
Something we always try to tell students is that the clinic will never be their first opportunity to try out a procedure. When you're learning injections in class or studying how to administer an EKG, you and your fellow classmates get to practice on each other. Being squeamish about needles may not be the best trait to have if you want to be a medical assistant.
9. Supplemental Instruction Can Help You Immensely
At Nebraska Methodist College, we want you to succeed. That's why we give all of our medical assistant students access to supplemental instruction. This is designed to help you succeed in class, and persons who have taken advantage of it usually find that it helps their grades, and ultimately, their careers.