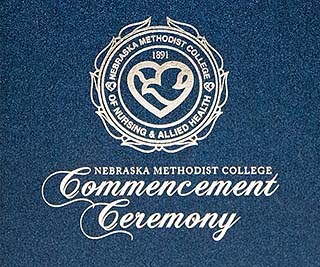 Nebraska Methodist College will honor 88 graduates at this year's summer commencement.
The celebrations begin today with a Hooding Ceremony and Graduate's Reception at First United Methodist Church.
On Friday, graduates will receive their diplomas during the commencement ceremony at St. Andrew's United Methodist Church.
This commencement is the first for new President and CEO Dr. Deb Carlson.
"These graduates represent the values and traditions that we hold dear at our institution," Carlson said. "We can't wait to see what incredible things these caring and compassionate men and women will accomplish in their healthcare careers."
The list of graduates, along with their degrees, is as follows:
Doctor of Nursing Practice
Valerie Lynn Anderson
Kimberly A. Bland
Amy Elizabeth Bullington
Carrie Leigh Dahl
Maria B. Douthett
Amber Amelia Fuller
Kathryn Jelsma
Lisa Ann Minahan
Geenander Kaur Raju
Kelsie Sue Scheer
Brittani Ann Seagren
Nathan Thomas Shank
Master of Science in Nursing
Lori Renee Ayers
Dena Kay Behrns
Heather R. Benzel
Sheila Carroll
Jennifer E. Chapin
Nell Lee Christensen
Melissa Hargrave
Michelle L. Kuehner
Michelle Ann Leahy
Ashley Petersen
Susan R. Roemen
Amy Lorraine Shrum
Meyokia N. Smith
Sandi Stickrod
Amber Kay Stoltenberg
Kaitlyn Ferdig Vogt
Trevor David Woodward
Kathryn Marie Wunder
Graduate Certificate in Wellness & Health Promotion
Derek Wakefield
Bachelor of Science in Nursing
Lydia A. Acosta
Tina Lea Bittner
Carrie Marie Boosalis
Samantha Marie Docken
Nora H. Gahan
Jessica Kathryn Graham
Kiley Kay Grzywa
Samantha James
Amanda M. Kester
Paige McKae Kowalczyk
Morgan Elizabeth Krohn
Sharlene D. LaBrie
Denice Marie Louder
Julie A. Lyons
Rachel Justine Martin
Serra Kathryn Rose McGill
Michala Mislivec
Michelle Claire Rogers
Danielle Jessica Schissel
Brea Schrage
Allison Jo Shymkewicz
Jeremy William Tamisiea
Alexandria Rhoades Thomas
Taylor Nicolle Thurston
Brian Michael Wilson
Emily Lynn Zimmerman
Associate of Science, Radiologic Technology
Brittnee M. Allen
Katherine Nicole Brunsting
Julia Donna Delaney
Lea Danielle Gillespie
Lisa Marie Gurney
Katherine Danielle Hickman
Jessicca R. Johnson
Mackenzie Melissa Jorgensen
Sarah J. Lajiness
Megan Elizabeth McClellan
Molly Elizabeth McGillick
Ashlee Noelle Olson
Briena Pocevicius
Hayley Ann Romano
Nichole LaVaune Stuva
Landon Michael Wegner
Abigail Wright
Certification in Medical Assisting
Jennifer L. Baker
Christine Louise Boyer
Jessica Cailey Brandt
Nicole Buscher
Stephanie Marie Fike
Daysia Amani Floyd
Paige Gallagher
Destiny L. Gamble
Randy James Norman Jr.
Deborah Steimle
Lyndsey Marie Stephens
Denise M. Szczepaniak
Patti Jo Woods
Regan Jo Zach