Nebraska Methodist College Director of Enrollment Services Megan Maryott has heard dozens of misconceptions. You've probably even heard some of these rumors yourself. We asked Megan to set the record straight on the most common myths and give us the facts instead. Read on to learn the real deal.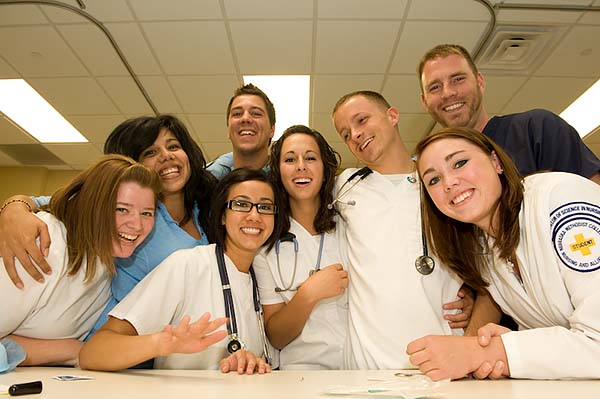 Myth: NMC is just a nursing school
Megan: It's true that NMC has a very strong nursing program, but the college actually offers over 30 different programs, ranging from certificate programs to a doctorate degree. As the healthcare field has grown, bringing new careers into the field, NMC has added programs to meet those needs. For nursing, we offer Bachelor of Science, Master of Science and Doctorate programs that provide students with the knowledge they need to be successful, effective, compassionate nurses. But we also offer degrees and certificates in allied health and healthcare management.
You might want to be a physical therapy assistant, for example, or specialize in surgical technology. Or maybe you're excited to work in wellness promotion or healthcare administration. NMC can help you work toward a career in a variety of areas.
Another thing that makes us more than just another nursing school is our unique approach to healthcare education. Our programs focus on more than just the technical side of healthcare. At NMC, you'll learn the meaning of care and compassion through an integrated curriculum of service learning and community-based education that will prepare you to be a successful, engaged professional.
Myth: NMC only accepts transfer students
Megan: While we do provide a lot of resources to meet the needs of transfer students, you don't have to have any college-level credit before enrolling. You can come to Nebraska Methodist College right after high school or take online courses if that fits in better with your schedule. We also accept international students and those who've earned some college credits while in high school.
Myth: Tuition is higher than other, similar colleges
Megan: NMC's tuition is actually very comparable to other private colleges in Nebraska and often less expensive. The college also awards almost $3 million in aid each year, making education more affordable for those who need the help. In addition to keeping our tuition rates competitive, our financial aid counselors are dedicated to making it easy for students to learn about options that can help, like federal work study programs, federal student loans and private education loans.
To get more info, talk to one of our financial aid counselors.
Myth: NMC is located at the Methodist Hospital
Megan: Quite a few people think this, but the college actually isn't in the hospital. Our separate, state-of-art campus is located in the heart of Omaha (87th & Dodge), and it has a bookstore, library, computer lab, campus health center, fitness center, student center and many labs and classrooms. Students can live on campus too, in our apartment-style housing complex called Josie's Village. It's a great place to call home and even features a gym, security, free parking and quiet study spots. Schedule a campus visit today and take a look around.
Myth: There's no continuing education at NMC
Megan: The college offers health professionals the opportunity to keep their skills current with several continuing education and professional development classes. There are courses that are offered year-round, such as:
At NMC, we believe healthcare knowledge doesn't end with a degree – the field is always changing, and the college is focused on helping healthcare professionals stay current with their skills.
With any college, there are sometimes misconceptions about what's offered or assumptions about transfer policies or tuition. The fact is that Nebraska Methodist College offers a caring, close-knit community of students and faculty who are dedicated to mastering the science of healthcare and teaching the meaning of care.
Experience Nebraska Methodist College yourself. Schedule a campus visit and get the answers to any questions you might have.