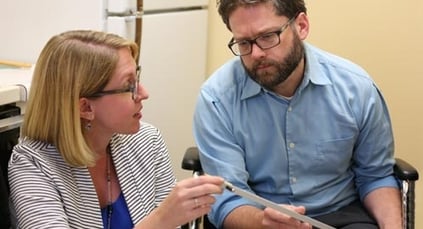 Nebraska Methodist College's newest program is also one of its most exciting. The Master in Occupational Therapy, which we've just announced and will start in Fall 2016, is now accepting applications.
The OT field is thriving right now, but what's most important to us is the positive impact this program can have in the community. After all, NMC will be teaching people how to make a real difference in so many lives.
At this point, you're probably wondering what separates NMC from other programs in the region, and that's exactly what we're here to talk about. Here's everything you need to know (and some stuff you didn't know you needed to know) about our exclusive Occupational Therapy program.
1. A Faster Timeline
The MOT program runs over the course of six semesters, summer included, allowing for quicker completion and faster entry into the field.
2. Post-Baccalaureate
The main reason we're able to offer this program on such an accelerated timeline is because our MOT requires a bachelor degree prior to entry. That makes this type of degree program unique to the region.
3. Hybrid model
To offer the best education possible, we're delivering our instruction in a blended online and on-campus environment. Time spent on campus will be meaningful, with a focus on active learning strategies, while online coursework will build upon classroom learning and fieldwork experiences. Speaking of…
4. Fieldwork Opportunities
Our more personal class size and long-standing reputation in the community mean you'll have the chance to conduct fieldwork in a variety of different locations around the area.
5. Community-Oriented
We don't take lightly the role that Nebraska Methodist College and the Methodist Health System as a whole play in the community. We prepare each and every one of our graduates to exemplify the best characteristics of the healthcare worker, and that will ring true for our Occupational Therapy grads as well. Compassion, dedication and empathy will stand as virtues that all of our students will come to enact in their interactions with clients.
6. Small Class Sizes
At NMC, you'll never have to worry about being just a number. Our small class sizes mean more opportunities for instructor-to-student interaction, allowing you the chance to better develop your skills and succeed in a learning environment geared toward your particular strengths.
7. Excel with Like-Minded Individuals
As the healthcare field moves toward a world where there's more of a focus on interdisciplinary teams, all united toward the goal of helping each patient in the best manner possible, NMC's continued degree focus on the world of allied health will allow you to thrive. You'll be surrounded by like-minded individuals who, though they may be earning different degrees, all came into our college knowing they'll be preparing for a career in helping people. This fosters teamwork at an early stage, and that will pay off well down the road in your OT career.
8. Continuing Education Opportunities
NMC is home to the Center for Professional and Continuing Education, and this branch of our college offers a number of post-grad opportunities to individuals in a variety of disciplines. OT professionals may have the opportunity to earn Continuing Education Credits via the very school they earned their Master degree from. The transition is truly seamless for those who are interested.
9. A 125-Year Legacy
Our college was established in 1891, and we've been continuously operating since that time, transitioning from a small nursing school to a full-fledged nursing and allied health degree-bestowing college. The MOT program signifies our continued commitment to adapt to the changing times, and as a student in our first graduating class, you would join a roster of alums that have etched their own names in our hallowed history.
10. An Expanding Field
We mentioned this at the top, but it bears repeating: given the sweeping changes experienced by healthcare in the recent decade, the Occupational Therapy field is expanding dramatically. This is evident not just in Omaha, but across the country. As the field continues to grow, there will be a huge demand for people qualified to work with individuals to provide them the level of care they deserve to attain a better quality of life.
You can fill that role. And you can do so with Nebraska Methodist College.