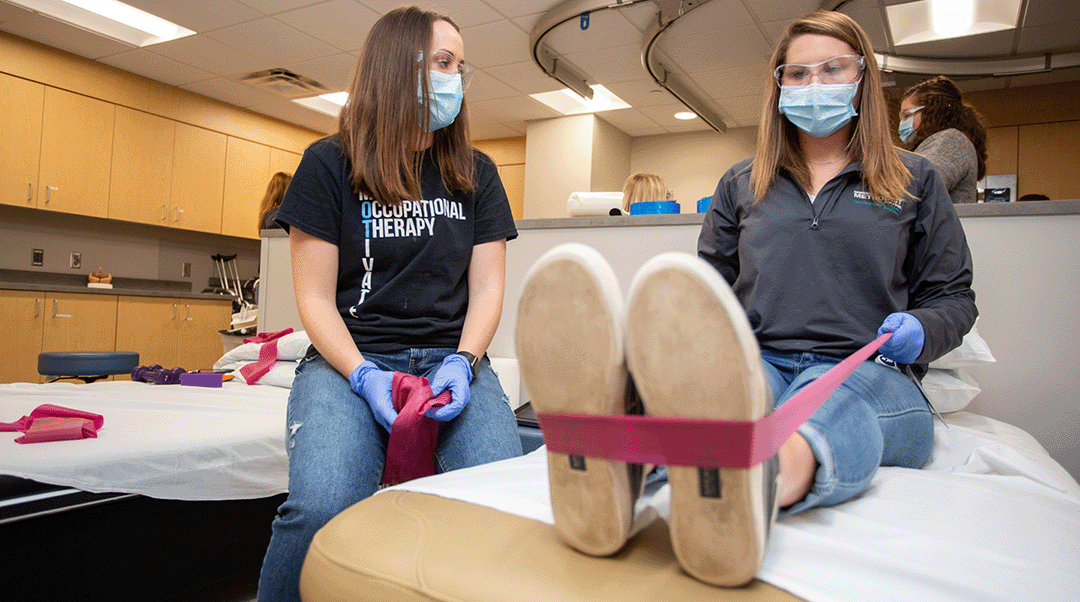 Occupational therapy is a rewarding career that is in demand and growing quickly.
There are different paths you can take to become an occupational therapist, including a master's or doctorate degree. Discover which path is the right fit for you.
The Difference Between an MOT and OTD
A master's degree in occupational therapy is the minimum education level required to take the licensure exam and practice as an occupational therapist. This education path allows you to learn the technical and personal skills necessary to provide effective and compassionate care to patients.
The Master of Occupational Therapy (MOT) program at Nebraska Methodist College (NMC) provides classroom learning, research assignments, lab work and clinical experience in a hybrid format of on-campus and online instruction.
"This program allowed me to pursue two dreams at once, becoming an occupational therapist and becoming a mother. I had a baby while completing this program, and everyone was so supportive of me along the way," said Regina Suddarth, a Master of Occupational Therapy graduate. "I am so proud of both of these accomplishments, and I couldn't have done it without the support, flexibility and genuine care of all my professors here."
The six-semester, 24-month program offers students faster entry into the occupational therapy field.
A bachelor's degree is required for admission to the program. Fieldwork assignments begin in the first semester, and students gain hands-on learning opportunities in rural and urban areas throughout the country.
Once you earn your master's degree, you'll be equipped to work in hospitals, rehabilitation centers, private clinics, patients' homes and a variety of emerging practice areas.
If you are interested in leadership, administration, research or teaching, an occupational therapy doctorate may be a better fit.
An occupational therapy doctorate program prepares students with the same clinical knowledge they would learn in a master's program, but provides additional training for leadership roles.
A doctorate in occupational therapy will help you hone your skills in the areas of clinical practice, research, administration, leadership, management, education and program development.
Earning a doctoral degree prepares graduates to work at colleges and universities, hospitals, rehabilitation centers, clinics and more.
Both paths will prepare you to take a licensure exam with the National Board for Certification in Occupational Therapy (NBCOT).
Occupational Therapist Salary Potential
The median annual salary for occupational therapists was $85,570 in 2021, according to the U.S. Bureau of Labor Statistics.
Salaries for occupational therapists depend on the level of education, experience, type of work, work environment and geographic location.
Employment of occupational therapists is projected to grow 14% from 2021 to 2031, much faster than the average for all occupations.
Demand is due, in part, to the continued growth of the elderly population and that occupational therapy will continue to be an important part of treatment for people with illnesses and disabilities such as Alzheimer's disease, cerebral palsy, autism or the loss of a limb. Workplaces in which OTs will find particularly high demand include hospital, rehabilitation and orthopedic settings.
The demand for occupational therapists means there will also be a demand for OT faculty.
OTs holding a professional doctorate increased from 2.7% in 2010 to 9.6% in 2018, according to the American Occupational Therapy Association 2019 Workforce and Salary Survey.
The Cost of an MOT vs. OTD
Deciding whether to pursue your master's or doctoral degree is a big decision. Each path will require a commitment of time, energy and financial resources.
Pursuing a doctorate in occupational therapy means additional time and, most likely, more student loans.
Starting with a master's degree allows you to begin your career sooner, have less student loan debt and increase your income opportunities.
After completing NMC's MOT program in 24 months, you can begin your career as an occupational therapist. In the first year of your career, you can decide if continuing your education is the right path.
Gaining experience in the field will also allow you to determine areas of interest or specializations you may want to pursue.
If you decide to seek your doctorate, you may be eligible for employee tuition assistance.
If you're confident that a doctorate is the path that you want to pursue, you can complete your doctoral studies in 24 months at NMC with a Post-Professional Occupational Therapy Doctorate (PPOTD).
Getting a Post-Professional Occupational Therapy Doctorate
A post-professional doctorate allows you to advance your studies after you earn your master's degree and have been working in the field.
NMC's PPOTD program gives you flexibility for your busy schedule with 100% online classes. The courses are 10 weeks long, with scheduled breaks every five weeks. The program can be completed in 24 months.
"I'm most proud of my ability to complete the required classwork while holding a full-time and PRN position," said Carrie Griffin, a graduate of the Post-Professional Occupational Therapy Doctorate program. "The faculty took the time to provide an excellent education."
You can choose from two program tracks - clinical leadership and occupational therapy educator.
Both tracks have a core curriculum including courses geared towards becoming a healthcare leader in a multi-disciplinary environment or for those who wish to pursue a path of becoming an academic OT educator.
The program provides advanced-level skills in clinical leadership and education that are not offered at the master's level, focusing on higher-level problem-based learning, critical reasoning and practical application.
Occupational Therapy Education Requirements
Entry-level requirements for occupational therapists worldwide are typically a bachelor's or master's degree.
The Accreditation Council for Occupational Therapy Education (ACOTE) temporarily issued a mandate requiring doctoral degrees for entry-level occupational therapists.
Thousands of occupational therapy professionals and faculty petitioned the council to rescind the mandate. Petitioners argued that the mandate was made against feedback from key stakeholders, including occupational therapy practitioners, faculty, employers and regulators.
Concerns of the petitioners included increased cost of tuition, an increase in student loans, challenges paying back student loans for occupational therapists working in rural areas, the potential for an increase in the cost of care, limited career advancement opportunities and shortages of practitioners.
The accreditation council reversed the mandate in 2019, making bachelor's or master's degrees the standard requirement for entry-level positions.
How to Apply to Occupational Therapy School
Whether you decide to pursue your MOT or PPOTD, you'll want to submit a competitive application.
NMC accepts applications for the MOT program throughout the year for the fall term.
Applications for the PPOTD program are accepted throughout the year for January and August start dates.
For both programs, applications are reviewed upon receipt, and students will be notified of their application status by letter or phone.
Contact admissions@methodistcollege.edu with questions.