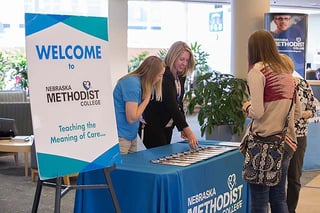 At Nebraska Methodist College, we want to do everything we can to make you comfortable about your ultimate college decision. Toward that end, we've created more visit days this academic year than ever before, giving you the opportunity to select the campus tour that best fits your needs. Here's everything you need to know about our upcoming Visit Days.
Transfer Night
Whether you're at another college right now or you're looking to go back to school after being away, Transfer Night is for you.
Transfer Night is your best option to determine the course of action that will get you the degree that lands you the career you've been looking for. Each attendee is able to set up one-on-one appointments with our Admissions counselors. This allows you to ask any questions you may have about returning to or transferring colleges.
If you have concerns about prerequisites, scheduling or anything else, this is the most opportune time to ask those questions. You'll also be able to meet with representatives of our Financial Aid office to go over the various opportunities you have to get help paying for school.
We currently have Transfer Nights set for January 12 and March 1, so be sure to make an appointment for the evening that fits your schedule.
NMC Preview Day
Your opportunity to get a glimpse of Nebraska Methodist College as a whole is at NMC Preview Day on January 23.
Primarily aimed at traditional students seeking a two or four-year degree but open to Transfer students as well, Preview Day provides wide-ranging campus tours that allow you to see what it's like to be a full or part-time student at our college.
You can look forward to learning about financial aid, meeting with the heads of the various nursing and healthcare programs within the college, and getting a peek at our many simulation suites, which allow students to practice delivering babies and responding to any number of emergency situations that could arise in a hospital setting. You'll also get the opportunity to see our cadaver lab, take a tour of our apartment-style housing and view the other amenities found throughout campus.
New this year, you'll even get a sneak peek at the brand new Charlotte Schultz Learning Commons and Student Engagement Center. This facility, which is being unveiled in a Grand Opening ceremony next week, features state-of-the-art technology and a floor plan designed to enhance the learning experience.
Come to Preview Day to truly see everything NMC has to offer.
Accelerated Nursing Preview Night
On February 2, we're holding a Visit Day geared specifically toward individuals who already have an Associate or Bachelor's degree but are looking to make a career switch to nursing.
Our Accelerated Nursing program is a 15-month program unlike any other at the college. Although the accelerated pace can be, well, exhilarating, it can also be a bit daunting. You'll work hard, but in just 15 months, you can have your Bachelor of Science in Nursing and be ready to step into your new role in the healthcare world.
The Accelerated Nursing Preview Night lets you see our facilities, learn about financial aid and find out if this program will be the right fit for you. This is the time to ask any outstanding questions that have been on your mind about your transition to becoming a nurse, so be sure to make time to visit us.
Just Juniors Day
Like it says in the name, Just Juniors Day on April 12 is a day devoted to helping high school juniors make an informed decision about whether Nebraska Methodist College or a career in healthcare will be right for them.
Just Juniors Day is somewhat similar to NMC Preview Day, but with an extended focus on the things that matter to students who still have a year of high school to go. More time will be spent on subjects like housing, first-year scholarships and financial aid packages and what to expect from an education (and career) centered on healthcare.
Sign up today if you're a junior thinking about earning your degree from NMC.
Healthcare Career Camp
If you're a high school student who wants an experience that's a little more hands-on, you can't go wrong with our Healthcare Career Camp. This week-long summer camp gives you the opportunity to go through a wide range of interactive experiences centered on the different aspects of healthcare.
You'll learn how to perform CPR, find out how an X-ray functions, work with a sonogram and more. This is maybe the best opportunity in the area to really experience healthcare from a first-person point of view.
For the first time ever, we'll be offering two separate camps this summer: one is a day camp where you go home each night, the other is an overnight camp. With the latter, we have an array of games and activities lined up throughout Omaha before you stay in our apartment-style living spaces each night.
Learn more and register for Healthcare Career Camp here.
Personalized Visits
If you can't make any of these visits, or if you simply prefer a one-on-one information session and tour, you can also schedule a personalized visit. Our Admissions team is happy to answer your questions and show you around campus, so contact us to set up a time that works for you.
We hope you've found this guide helpful. Browse methodistcollege.edu for more information about our programs, and to schedule a tour, stop by our Visit Page to select the event that's right for you.
We'll see you on campus!