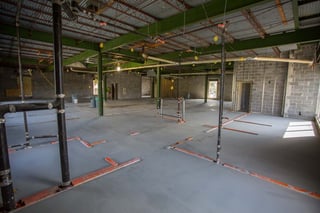 The summer season has arrived at Nebraska Methodist College, but that doesn't mean you'll catch us taking a vacation anytime soon. In fact, this summer is shaping up to be one of the busiest in recent memory, as our institution is set to experience an unprecedented amount of change over just a few short months.
With new programs, new buildings and other exciting developments designed to improve the student experience, people who arrive in the fall will find a campus that's been heavily transformed. Yet even with that change, the emphasis on compassion within healthcare and turning our students into Educated Citizens will become stronger than ever.
On-Ground Programs to Meet Healthcare Needs
Nebraska Methodist College has always prided itself on the ability to respond to whatever challenges healthcare is currently facing. This fall, we'll launch a number of programs that echo this commitment to healthcare and our own students' careers.
We always look at the latest trends to figure out where the greatest need is. Why? Because we can help. NMC educates qualified health professionals to fill the roles that are most in demand. This is great for healthcare in general, which needs a steady supply of talent individuals, and it's also great for our students, whose chances of attaining a job straight out of college will jump dramatically when they're going into an industry with a huge number of job openings.
At the undergraduate level, we're proud to finally have a Bachelor of Science in Healthcare Management program on the NMC campus. Students who enter this exciting field will be introduced to the concepts and strategies that will allow them to become effective leaders within healthcare.
The Healthcare Management Bachelor's program will be the perfect entry point to those who want to enter the healthcare field but aren't necessarily interested in the clinical component. Although some coursework can be completed online, the majority will take place on campus, making this a good choice for traditional and transfer students.
We'll also be launching an on-campus Occupational Therapy program. This Master's level program, which takes two years to complete, is designed to meet the growing need for OTs within healthcare. Thanks to the Affordable Care Act, more people are covered for Occupational Therapy services through their insurance than ever before, which means droves of people are now compelled to seek out care from an OT, who can help provide an improved quality of life for the patient.
The Building Dance
The addition of these programs means a need for increased capacity, something that NMC has anticipated and taken steps to accommodate.
This fall, we'll open the 501 Building to students. Adjacent to Dodge Street, this building is the new home of our Radiologic Technology and Sonography programs. The former will benefit from a fully energized lab, information about which will be available in a blog coming out later this summer.
With Rad Tech and Sonography moving down the street, Occupational Therapy will move into the space formerly occupied by those undergraduate programs. This will give our OT program ample room for a pediatrics lab and an adult general OT lab. These come in addition to the model living quarters and outdoor garden area that will also be set up for our OT students.
For the first time ever on the NMC campus, students can expect a regular flow of foot-traffic from building to building. And the 501 building on Dodge is only the beginning. We haven't even begun work on the former site of Billy Frogg's, but in the years to come, expect big things from this developing site within campus.
Online Programs For Busy Professionals
We're also making an unprecedented expansion into the digital realm, with new online programs designed to give graduate students a convenient way to earn their upper level degrees.
The Master of Business Administration in Healthcare is a great choice for individuals who want to further their position within a healthcare institution. The online MBA program gives administrators the development and education they need to take on even more responsibilities within healthcare, which also makes it a great next step for graduates of the Bachelor of Science in Healthcare Management. It's even a good fit for persons coming from the clinical side who would like to transition to an interdisciplinary or leadership role.
The Informatics track of our Master of Science in Nursing program is also set up for persons coming from the clinical side, but in this case, it's exclusively for nursing professionals. With data more important than ever for improving patient outcomes, healthcare needs qualified individuals to analyze the available information and turn it into actionable insights. Nurses are the perfect fit for this role, as they can act as liaisons between IT, executives and clinical teams.
Finally, the Adult Gerontology-Clinical Nurse Specialist program provides our Doctor of Nursing Practice students with an additional option for earning a terminal degree. This path allows BSN and MSN-qualified nurses to focus on a specific demographic (adults across their lifespans), providing them with the skills necessary to develop population care models and policies.
The online nature of these programs provides nurses and other healthcare leaders with the experience they'll need to take healthcare into the future.
TRIO @ NMC
This year also marks the beginning of TRIO Student Support Services at NMC, something that incoming students for the Fall 2016 semester should absolutely look into.
TRIO SSS is meant to provide financial help, professional development and an array of counseling services to students who meet specific criteria. To qualify, a student must seek a four year degree and be a first-generation college student, have a documented learning or physical disability or meet the federal definition of low-income.
TRIO is an absolutely fantastic service that has helped students across the country embark on a wonderful career in college and beyond. We're thrilled to be able to offer it at NMC and encourage anyone who feels they may qualify to visit our TRIO SSS webpage to learn more.
NMC 2016 and Beyond
It's only fitting that our 125th Anniversary bring such sweeping changes to the Nebraska Methodist College campus. We can't wait to get started on this brand new academic year so you can see everything we have in store.
Stay tuned to the blog for more surprises and reveals.