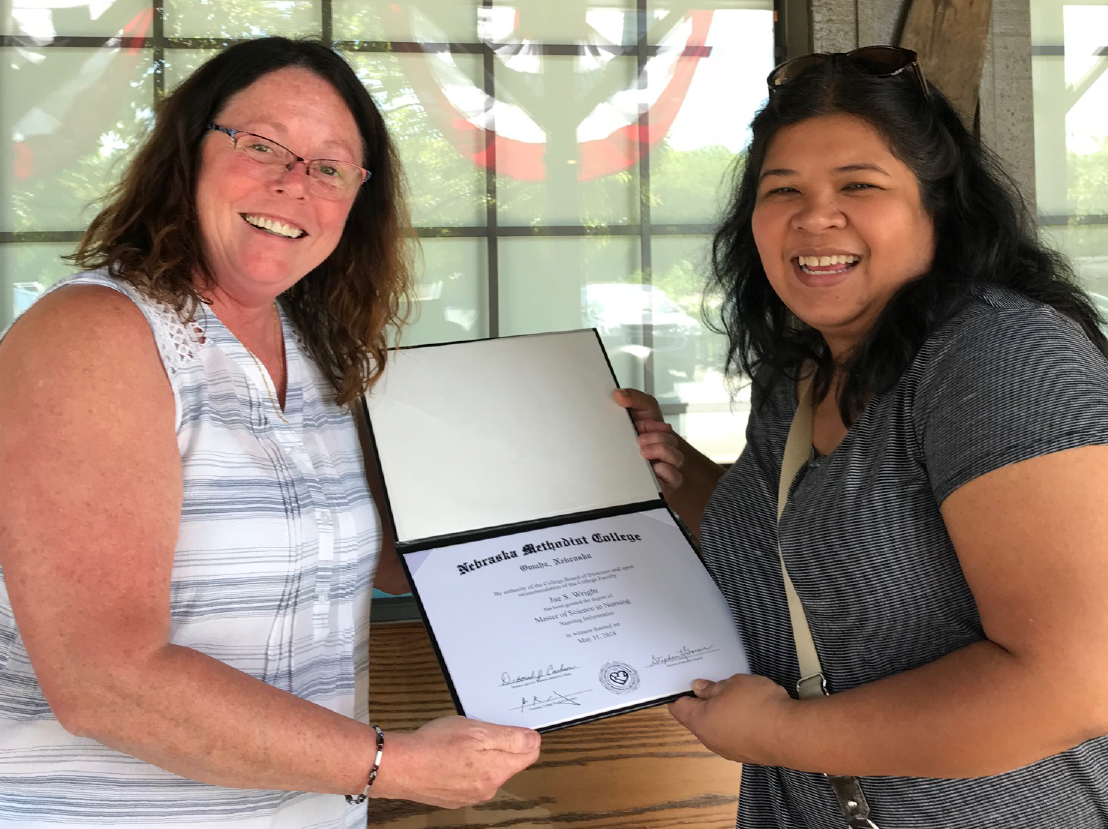 NMC Informatics Director Debborah "Debb" Adams (MSN 2016, BSN) loves to teach. She also loves to travel the country, meeting new people and visiting new places. What's her favorite way of travel? In the comfort of the 24-foot recreational vehicle she nicknamed 2BEEZ after the unique spelling of her first name.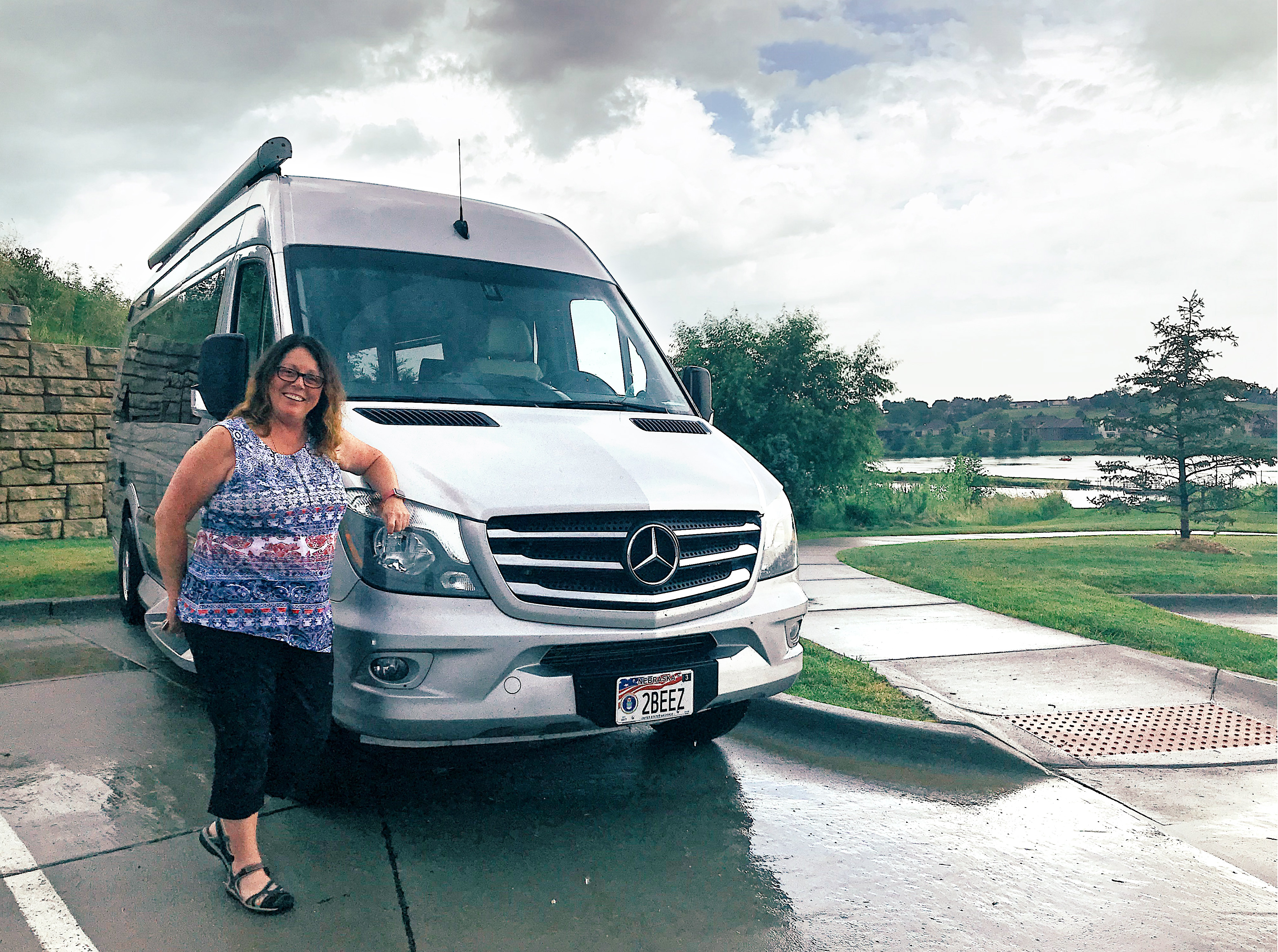 Over the past year, Debb has logged nearly 15,000 miles behind the wheel of 2BEEZ. While traveling this summer, Debb stopped in Crown Point, Indiana, to hand-deliver the MSN diploma earned by one of her students: Jae Wright (MSN 2018, BSN).
Jae, who lives and works in Crown Point, has never been to Omaha, and she didn't need to set foot on the Nebraska Methodist College campus to successfully complete the online MSN in Informatics. At NMC, the MSN is available in three convenient online tracks: Informatics, Nurse Educator, and Nurse Executive.
Despite the physical distance between Omaha and Crown Point, Debb and Jae say they felt a real connection develop through their online communication and phone chats over the course of the program.
Last summer, when Debb and 2BEEZ happened to be traveling near Crown Point, Debb offered to stop by so she and Jae could meet over lunch.
"All of my professors have been amazing and very engaging," said Jae, "especially Professor Adams, who is just astounding in the way she goes above and beyond for her students."
As the time of Jae's graduation approached, Debb hoped Jae might be able come to Omaha to attend the May 2018 commencement ceremony, but that was not possible with Jae's other responsibilities.
"So this summer, when I was near Crown Point, I arranged to meet Jae for another lunch," said Debb, "and I asked if other family members might like to join us."
Jae brought along her mother. Both mother and daughter say they were delighted by the way Debb transformed the lunch into a surprising and deeply heartwarming celebration.
"I presented Jae with her MSN graduate diploma, alumni pin, and crystal starfish," said Debb. "As I gave her these mementos, I explained what she would have experienced during the graduation ceremony and shared the story of the starfish."
"All of this was a surprise I'd never expected, and I hadn't known the significance of the starfish," said Jae. "Suddenly, all of my work and accomplishments felt very real."
The starfish story, as retold for the NMC family by Jean Schmidt Beyer (PhD, RN '58), is about a young boy gently placing one starfish after another back into the ocean before the tide goes out. A passerby points to the miles of beach and hundreds of starfish, telling the boy he can't possibly make a difference.
As he places another starfish to the water, the boy says, "But I made a difference to that one."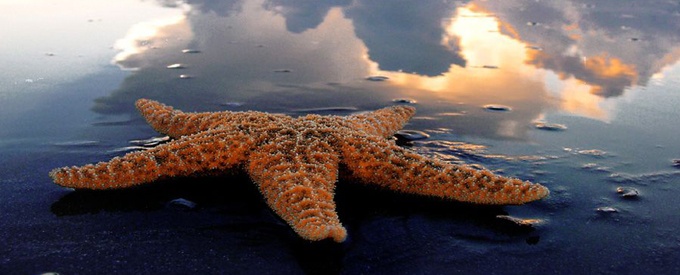 Jae's parents, Mae and Robert Lant, have been difference-makers and inspirational role models to Jae and countless others.
"Both my mom and my dad were nurses," said Jae. "I originally didn't want to go into nursing, but that changed after my dad got sick."
Eighteen years ago, when Jae's father began his long battle with pancreatic cancer, Jae dropped out of college to help care for him.
"Being with my dad in the hospital changed my mind about nursing," said Jae. "I could see firsthand how much the nurses influenced how well he did, and I experienced how comforting nurses can be to family."
Jae eventually went back to school and became a nurse. Early in her nursing career, Jae worked in a hospital that did paper charting. Later, when she worked in a hospital with electronic health records, she described the difference as "life-changing."
"I immediately embraced computers and loved their impact on nursing," said Jae.
When the time was right for her to seek advanced nursing education, she knew an MSN in Informatics was the right choice for her.
Debb says she knows that Jae will continue to make a real difference in the lives of patients, other caregivers, and the quality of healthcare.
"Nurses need to know how to use data, information, knowledge, and wisdom in conjunction with technology to improve patient outcomes," said Debb. "We need more nurses educated in Informatics."
Jae knows she is on the right career path and says much of the credit goes to the support she has received from her diploma-delivering professor.
"I wouldn't have a graduate degree now if it hadn't been for Professor Adams," said Jae. "My dad died during the program, and I would have quit without her. She has been instrumental in the success I've had."