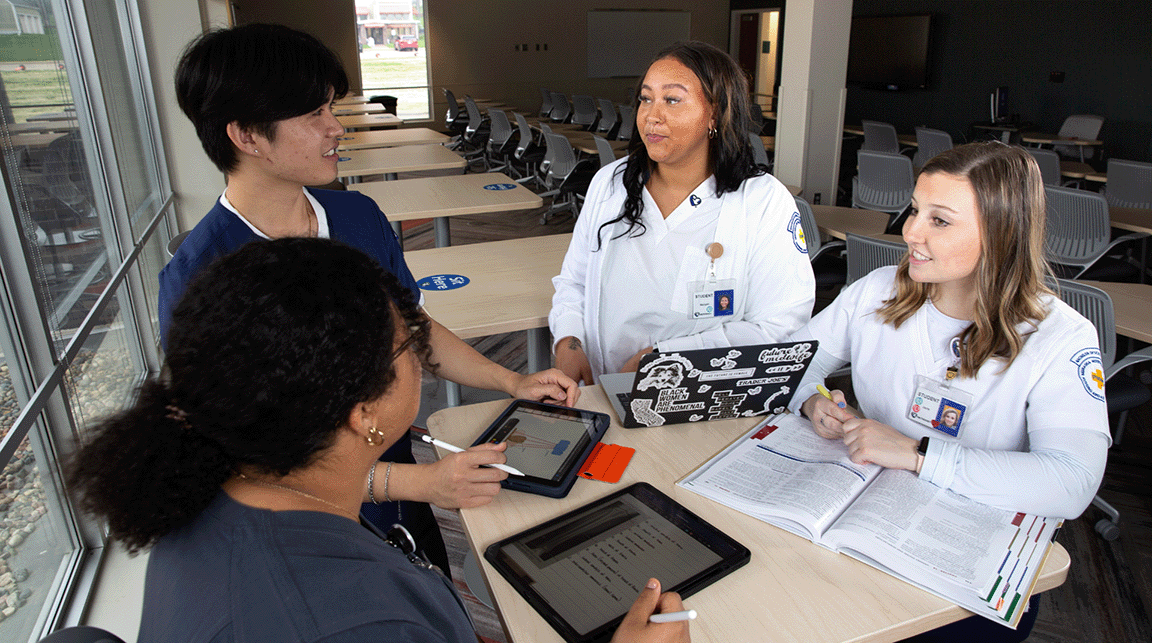 Nebraska Methodist College (NMC) was named an Apple Distinguished School for 2022-2025.
As an Apple Distinguished School, NMC has demonstrated that the College is a center of innovation, academic excellence and leadership.
Schools that receive the recognition use Apple technology to inspire creativity, collaboration and critical thinking in learning, teaching and the school environment. They also have documented results of academic accomplishment.
"Receiving the Apple Distinguished School award is a proud moment for us at NMC. This award is due to the hard work of our faculty and is evidence that NMC is ahead of the game," said Deb Carlson, NMC president and CEO.
The Apple Distinguished School highlights NMC's success as an innovator and a compelling learning environment that engages students. The award also recognizes the tangible evidence of academic achievement because of NMC's use of technology.
Innovative Technology at NMC
The use of technology in healthcare settings is advancing rapidly. Students must have the skills necessary to adapt to provide patients with quality healthcare.
NMC and the Center for Research, Education and Teaching Excellence (CREATE) work to infuse technology and innovation into the curriculum to stay relevant to current and future generations of learners.
Faculty work to integrate technology and educational strategies into the classroom by collaborating with CREATE.
The NMClink program enhances curriculum and creates a more engaging learning environment. It provides a learning platform for students, and better prepares them to succeed in an increasingly digital world.
All full-time, degree-seeking, on-campus NMC students receive an iPad, iPad Pencil and keyboard case to use as a learning tool.
The benefits of learning using the iPad include personalized learning, enhanced technological fluency and improved collaboration.
NMC students use innovative technology such as interactive apps that help them learn human anatomy, create hand-drawn graphics that assist with memorization of complex medical concepts and virtual reality that simulates surgical and hospital experiences.
"Using the iPad has been a game changer in healthcare education. However, having the tools is only one part. It takes engaging faculty, staff and students in the learning process for true change to happen," Carlson said.
Apps and Resources for a Supportive Learning Environment
CREATE works directly with students to help them to use technological learning tools like note-taking, time management and anatomy apps, digital textbooks and more.
Some of the apps and resources students use are:
Notability - The note-taking app allows students to take typed, handwritten or hand-drawn notes. Students can also record lectures.
Picmonic - Picmonic helps students memorize complex medical terms and understand overall human anatomy.
Office 365/Outlook - Microsoft Office tools, including Word, Excel and PowerPoint, give students the tools they need to excel in their classes.
24/7 Support for Apple Products
Students with an NMC iPad have access to AppleCare+, which provides phone and text support 24 hours a day, seven days a week.
AppleCare+ also provides limited warranty coverage for students' iPad and Apple Pencil.
Learn More About NMC's Technology and Innovation
If students have questions about their Apple products, contact the Ed Tech department at nmc.helpdesk@methodistcollege.edu.