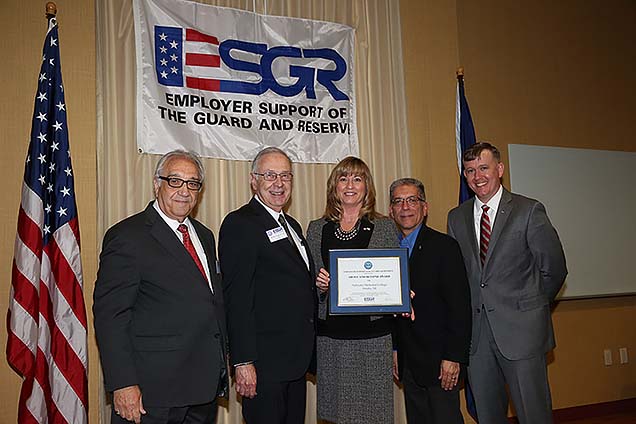 Nebraska Methodist College received the Above and Beyond Award at the Nebraska Committee for Employer Support of the Guard and Reserve (ESGR) annual awards ceremony on April 28.
Each year, the committee selects the best from the best to receive the Above and Beyond Award. The award is given to special employers in Nebraska that have supported their employees who are also reservists beyond the legal requirements established by the Uniformed Services Employment and Reemployment Rights Act (USERRA), such as providing additional, non-mandated benefits like differential or full pay to offset lost wages and extended health benefits.
"The Above and Beyond Award is our way of saying thank you on behalf of the thousands of Guard and Reserve employees in Nebraska for supporting their sacrifices in service to our nation during this time of conflict," said Bill Nelson, Volunteer Support Technician for Nebraska ESGR.
NMC's Executive Vice President Dr. Deb Carlson and Military Students Ombudsperson Mark Araujo, NMC's associate director of financial aid, accepted the award on behalf of the college.
"This award is an honor because it tells us that what we are doing for our employees, who are also reservists, is making a difference in their lives," Carlson said. "Reservists are called to give their lives for our country. The least we can do is help to take some of the stress off them and their families when the country calls on them. As a college, we will continue to support them whenever and however we can. We are honored and blessed to have them as employees."
ESGR, a Department of Defense office, is comprised of dedicated and trained volunteers and staff who develop and promote employer support for Guard and Reserve service by advocating relevant initiatives, recognizing outstanding support, increasing awareness of applicable laws and resolving conflict between employers and service members.
NMC's dedication to supporting staff and students in the armed forces also has been recognized in recent years by being named a Military Friendly School by G.I. Jobs Magazine. The magazine staff compiles the list of military-friendly colleges through data-driven research on the schools approved by the U.S. Department of Veterans Affairs.
The college also offers students an opportunity to get involved on campus. The NMC Student Military Organization believes in the promotion of personal development and intellectual growth and follows the mission and goals of the college while serving those who have served in the U.S. military or those who are interested in the U.S. military.
This Memorial Day, the entire NMC family would like to thank all armed forces members, veterans and their families for their service and sacrifices.
Photo cutline (left to right): Bruce Wood, ESGR Employer Outreach Director; Brig.Gen (Retired) Paul Cohen, ESGR State Chair; Dr. Deb Carlson; Mark Araujo; Phil O'Donnell, Military Affairs Liaison – Nebraska Commision on Military and Veteran Affairs