UPDATE: This blog has been updated to reflect the new Thursday date for the Student Body photo.
It's finally here, the moment you've all been waiting for…
The beginning of the Fall 2015 Semester!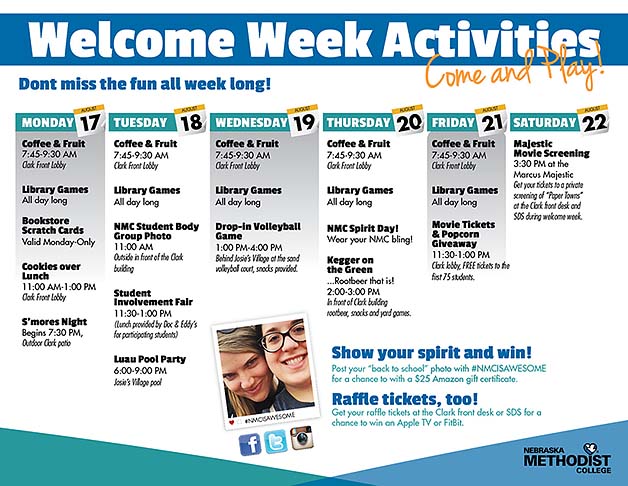 We're eager to welcome everyone back to campus, especially on this most special occasion, when we kick off our 125th Anniversary celebration. Because milestones like this don't come along every day, we're doing things a little differently this year.
Nebraska Methodist College will host a series of events designed to welcome all incoming students and help you get to know a little bit about your campus and classmates. These Welcome Week activities kick off a year that you'll remember even when you're celebrating your own 50th anniversary reunion half a century from now.
On Wednesday, August 12, you and your family are welcomed to Orientation at NMC, with many students seizing this opportunity to move into our on-campus housing facility, Josie's Village. The next few days will mark the continuation of orientation as well as a few special treats for those persons living in our residence halls.
On Monday, August 17, the real fun begins. Free coffee and fruit will be available every single morning for you to snack on (and energize with) as you begin classes. And the fun and games continue with actual fun and games: the library will have board games out for you to pass the time, and quiz cards will be available for students to fill out and submit for a chance to win a Target gift card.
That isn't the only prize you can look forward to in the coming days. Every single event you go to, you can pick up a raffle ticket to win such items as an Apple TV or a Fitbit. Plus, if you post your Back to School photo using #NMCisAwesome on Instagram, Twitter or Facebook, you'll be eligible to win a $25 Amazon gift card. And on Monday, the campus bookstore will be handing out scratch cards that contain a mystery prize. Scratch off the card at the register to find out how much of a percentage you'll receive off of your supplies.
Monday will also find the Center for Health Partnerships hosting "Cookies for a Cause" over lunch (11 am to 1 pm). You're invited to come decorate two cookies, one that you can eat or do whatever you want with, and another that gets donated to the Rainbow House, a fantastic local organization operated by the Children's Hospital & Medical Center. Not enough sweets? Once class is all wrapped up, drop on by the campus grill located behind the Clark Center to roast some S'mores at 7:30 pm. Boom.
On Tuesday, August 18, Doc & Eddy's BBQ will be catering lunch at the Clark Dining Area during the NMC Student Involvement Fair. And to top it all off, lunch is free to all students who visit six booths during the fair.
As a nursing and allied health college, we feel it's incredibly important for students to be active in both their campus community and the Omaha community. If you're going to our college, you've already decided that you like helping people. Our Student Involvement Fair will let you get a glimpse of the many organizations and opportunities that you can participate in on campus. Even if you're not sure what you want to do, stop on by and see what we have to offer.
That same Tuesday, NMC will host a Luau/pool party open to all students. Bring your swimsuit and drop on in to the pool at Josie's Village.
On Wednesday, August 19, come hang out by the volleyball court when you get some time away from class. From 1 pm to 4 pm, we'll be hosting a drop-in volleyball game. Join a team, play a few rounds, and have a couple snacks to pass the time between classes.
At 130 PM on Thursday, August 20, migrate to the front of the Clark Center to take part in a student body photo. The more the merrier, as we want to get as many people as possible for an accurate reflection of our student population. Stick around after, because at 2 PM you can take part in a kegger…a rootbeer kegger! You won't want to miss this one, as this event is also where we'll be declaring our raffle winners.
Finally, come by the Clark Center on Friday, August 21 between 1130 am and 1 pm to grab some popcorn and a movie ticket good for one free admission to "Paper Towns" at 330 PM on Saturday, August 22 at the Marcus Majestic Cinema.
Whew! I'm out of breath! This is going to be one for the record books, folks. We hope you'll help us kick off a year like no other in the history of NMC.
See you around campus!