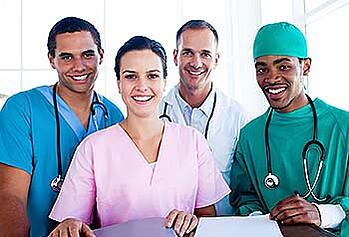 Research conducted by a group of Nebraska Methodist College students was recently featured in American Nursing Today, the official journal of the American Nurses Association.
The March issue of American Nursing Today published the article "How Magnet® designation affects nurse retention: An evidence-based research project." The article was the result of a critical literature review conducted by Nebraska Methodist College Master of Science in Nursing students Mellisa Renter, Anna Allen and Anne Thallas. Dr. Linda Foley, director of Nebraska Methodist College's Nursing Graduate Program, mentored the group throughout the project.
During the spring and fall semesters of 2013, the group conducted critical analysis of literature researching the levels of nurse satisfaction and retention among hospitals that achieved Magnet Recognition®. ®" target="_blank">The Magnet Recognition Program® recognizes healthcare organizations for high levels of patient care and nursing excellence.
According to American Nursing Today, the group's analysis "confirmed that Magnet designation correlates to positive work environments and nurse satisfaction, both of which may influence nurse retention."
The evidence-based research project was a capstone project for Renter, Allen and Thallas. Nebraska Methodist College graduate students are challenged to conduct capstone projects that address needs, gaps or issues in nursing and healthcare that ultimately help improve patient outcomes.