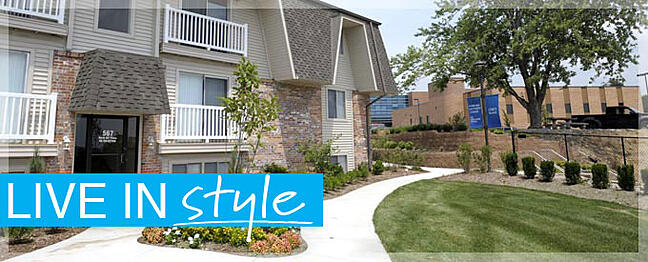 Research shows that living on campus positively influences college students in a number of ways. On-campus students tend to have higher grade point averages, more involvement in campus activities, and greater overall satisfaction in their college experiences. Most importantly, they are more likely to stick with college and finish their degree.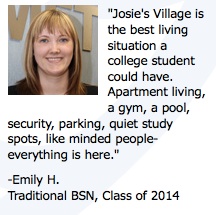 For students wishing to live on campus at Nebraska Methodist College, Josie's Village provides a comfortable home away from home. Josie's Village is coed apartment-style living with one- and two-bedroom apartments, housing 100 students. Fully furnished rooms spare students from having to lug furniture into their rooms on moving day at NMC. Wireless internet, cable television and all utilities are also provided and included in the housing costs.
NMC's housing options cater to students of all kinds. Housing options are available for traditional students, married students, married students with children and students who are single parents.
To live in Josie's Village, students must be enrolled in at least one class within their program of study in the fall and spring semesters. Students who are working in the Omaha area during the summer but are not enrolled in classes are eligible to live on campus if they are pre-registered for classes in the fall semester. Apartment assignments are made on a first-come, first-served basis.
"At Josie's Village, your neighbors will be students just like you who are meeting the challenges and feeling the rewards of the college experience," says Dr. Melissa Hoffman, Dean of Students. "Our housing staff is committed to helping students in their adjustment to college and to meeting other needs as they arise."