Sonography Explained
Sonography, also known as ultrasonography or ultrasound, is the use of high frequency sound waves to build images of body organs and blood vessels. The images enable medical doctors and other medical professionals to observe, study and diagnose growth and other changes that may occur within an individual's body. A sonographer is a professional highly trained in the use of sonography to construct the images needed.

Sonographers are probably best known for providing those first images many expecting parents see of their unborn babies. But the job of a sonographer doesn't end there. They play an important role in helping physicians diagnose and monitor a variety of medical conditions that otherwise cannot be seen.

Sonographers use advanced sound-wave technology to create images of the body's internal structures or organs. A sonographer's job is to capture the best two-dimensional images possible of three-dimensional organs to be examined by physicians to assess and diagnose the patient. To do this, they must have a strong understanding of human anatomy and their sonography equipment to acquire useful images that will allow the physician to make the best diagnosis.
Sonography Degree Programs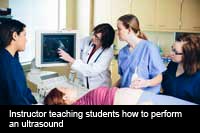 Nebraska Methodist College offers two sonography associate degree programs — Cardiovascular Sonography and Multispecialty Sonography. In Cardiovascular Sonography, students learn how to collect and evaluate images of the heart, the heart valves and related blood vessels throughout the body, aiding physicians in the diagnosis and treatment of disorders affecting the cardiovascular system. In Multispecialty Sonography, students learn how to examine the fetus of a pregnant woman to follow the baby's growth and development, as well as how to create images of a wide variety of organs for diagnosis and treatment, including the aorta, gallbladder, bile ducts, kidneys, liver, pancreas and spleen, among others.
Sonography Career
A career in sonography is rewarding for a number of reasons. Sonographers are the eyes and ears of physicians in diagnosing and treating internal conditions, and as a result, are held in high regard by physicians. Sonographers experience fulfilling patient interaction. The job is also a continuous learning experience, which provides a sense of accomplishment as individuals tackle new challenges daily.

According to the Bureau of Labor Statistics, the average salary for sonographers in the U.S. is $64,380 annually, with a forecast of faster than average job growth until 2020. Demand for sonographers is high for those willing to travel to other areas. While some regions of the country are saturated with sonographers, others are underserved. Students interested in sonography should consider their willingness to relocate to find a job.
Nebraska Methodist College's iPad Curriculum
Nebraska Methodist College's sonography programs utilize an iPad curriculum to prepare students for the field. All coursework, including quizzes, research, clinical documentation and classroom activities, is conducted on iPads. The curriculum includes several apps that help students understand anatomy, create the best two-dimensional images from three-dimensional organs, and draw on and label images.

iPads are an excellent tool for learning, research and administrative tasks, and they are a device that sonographers as well as other healthcare professionals will likely utilize in their daily workplace for organization and continued learning.

The following are example of apps used in NMC's sonography curriculum:
SonoAccess

Draw MD

Emergency Medicine Ultrasound

Echocardiography Atlas

IJot

Ultrasound Protocols and Image Reference Handbook

CARDIO3® Comprehensive Atlas of Echocardiography
For more information on becoming a sonographer, visit Nebraska Methodist College at methodistcollege.edu or contact an admissions representative at 402.354.7200.