Through a recent flash mob video, students, faculty and staff at Nebraska Methodist College teamed up to raise awareness for One Billion Rising, a worldwide movement to end violence against women and girls.

One Billion Rising shines a light on the staggering statistic that one in three women on the planet will be beaten or raped during her lifetime. With the world population at seven billion, that adds up to more than one billion women and girls. The movement encourages individuals to strike, dance and rise up in defiance of the injustices women suffer all over the world.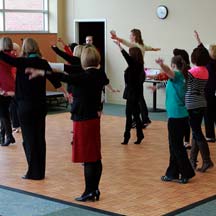 "With the dance focus of One Billion Rising, a flash mob seemed like a great idea to help spread the word of the initiative as well as local events at Nebraska Methodist College, the University of Nebraska Medical Center and First United Methodist Church in Omaha", said Keri Wayne-Browne, NMC Advisement & Outreach Coordinator. Wayne-Browne coordinated NMC's One Billion Rising event on Feb. 14. During the initial planning, the idea of using a flash mob to promote the event was explored, and Wayne-Browne contacted Erika Pritchard, Coordinator of Leadership Development at NMC. Pritchard had coordinated a live flash mob in 2012 for NMC Weeks of Welcome, which was so well received that she wanted to try something similar for 2013. Filming a flash mob that made its way across The Josie Harper Campus added a new dynamic to the idea — the opportunity to tell a story that could be shared with others.

"We wanted to illustrate through dance how one person can have an impact by inspiring others to take action," Wayne-Browne said. "As you see in the video, one person dancing is 'contagious,' and before you know it, the entire campus is rising up and dancing."

A group of approximately 30 students, faculty, staff and administrators spent many early-morning and late-afternoon hours learning and performing the dances choreographed by Pritchard. Pritchard also wrote the story board and directed the video which was shot and edited by Steven Hess, Online Education Specialist at NMC. In total, the project took more than 30 hours to complete from start to finish, and the video has had over 3,000 hits on YouTube.

"The best part was filming because I could see what was imagined become reality," Pritchard said. Wayne-Browne emphasized,"As a healthcare college where 90 percent of our students are women, it is important for us to be involved in this movement. This video sends the message to our students and the community that our college is taking a stand and rising up to end violence against women."