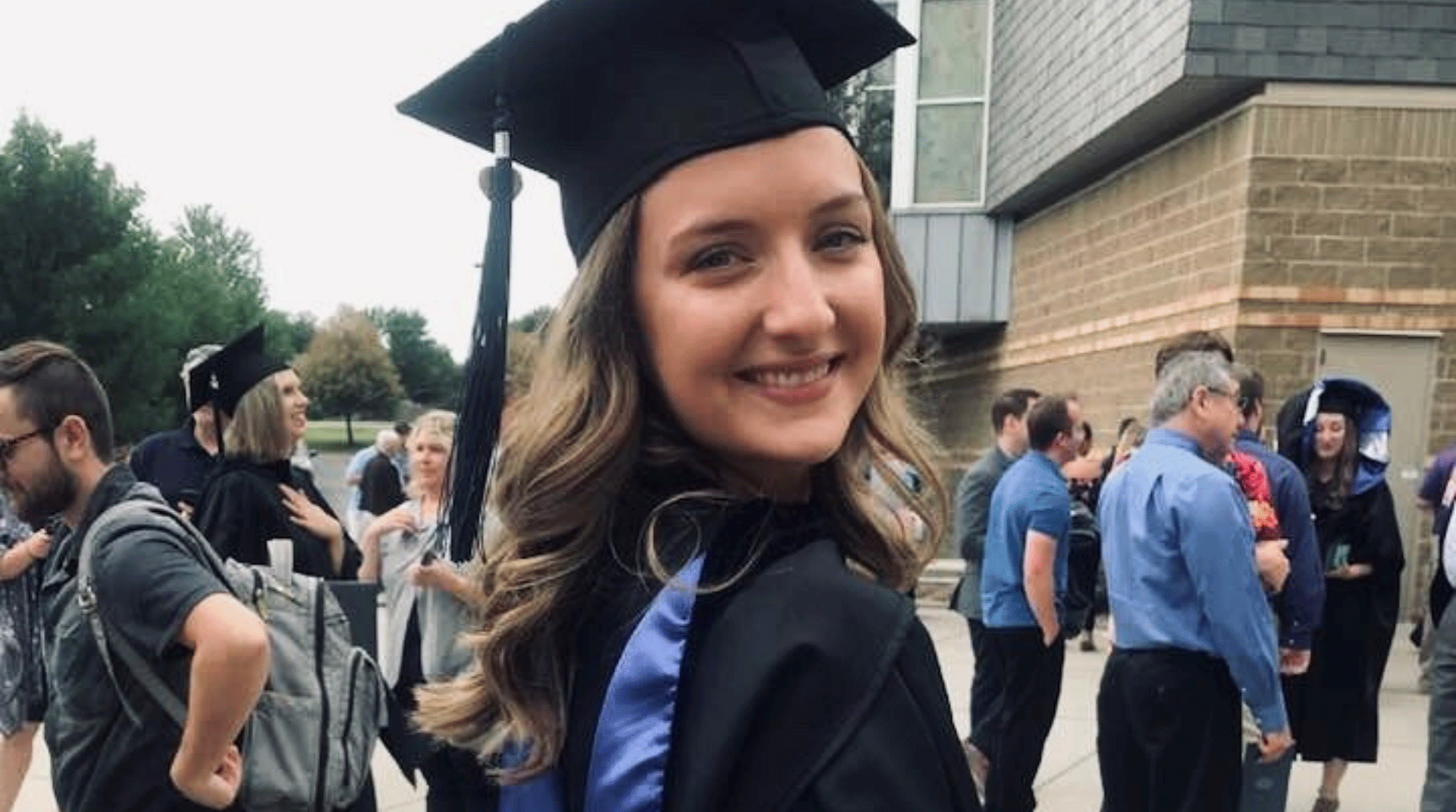 Nebraska Methodist College (NMC) alumna Andrea Tesarek has found fulfilling job opportunities and adventure as a travel occupational therapist.
Tesarek, who earned her Master of Occupational Therapy (MOT) degree from NMC in 2019, has worked in Wyoming, Iowa, Nebraska and Michigan.
"Never in a million years would I have thought that I'd be a travel therapist," said Tesarek, who hadn't traveled much beyond Lincoln and Omaha for college. Tesarek, who is from Plattsmouth, graduated from the University of Nebraska-Lincoln with an undergraduate degree in speech-language pathology in 2017.
As a student at NMC, the on-campus and hybrid format of the MOT program allowed her to study at her own pace, have a part-time job and enjoy some free time. The small class size also allowed her to form relationships with her cohort.
After finding success at NMC, Tesarek looked to find the right job opportunity. When she learned that one of her classmates was considering becoming a traveling occupational therapist, Tesarek decided to explore it.
Working as a Travel Occupational Therapist
She began working with a recruiter at Triage Staffing, a medical staffing agency that provides employment opportunities for traveling medical professionals. Soon, she had an interview for a job in Wyoming.
Excited about the employer's dedication to mentorship, she accepted the position and moved over 11 hours away. Her boyfriend took a job as a travel nurse in the same city, so she had someone to share the experience with.
"It was over the holidays, so I didn't come home for Christmas or New Year's. That was really hard, " she said. "But I knew that I wouldn't have that opportunity again."
The first two jobs she accepted, she said, were for job experience and to begin earning a salary after college. She then decided to take a job in Michigan where she could explore the food and culture of a new city and go on outdoor adventures like hiking and kayaking on weekends.
"That experience really changed my mindset," she said. "Now I want to travel somewhere that will give me a good job experience and allow me to have fun."
She chose her current job in Iowa because it's closer to home and will allow her to come home for the holidays.
"Every job that I take has an advantage at that time in my life," Tesarek said.
Working as a traveling occupational therapist allows you to have new job experiences, be exposed to rural healthcare, explore new areas of the country and make new friends, Tesarek said.
"The knowledge and experience you have coming out of a travel job is invaluable," she said.
Tesarek has been able to work in a variety of areas such as pediatrics, home health, acute care, skilled nursing and outpatient care. She's currently employed in a critical access hospital working with lymphedema patients, which she recently became certified in.
"There are so many opportunities for traveling occupational therapists. It takes confidence, a wide generalist knowledge and the ability to jump into uncertain situations," said Melissa Kimmerling, associate professor and master of occupational therapy program director. "We are proud of our graduates for their preparation for such demanding practice environments."
Tesarek's Tips for Working as a Travel Occupational Therapist
Make sure the recruiter you're working with makes you feel valuable.
Be specific about where you want to work and your desired salary.
During interviews, ask about setting, hours, location, patient load, age of the patients and length of the contract.
Think about what you'll get out of the experience.
Go with your gut when deciding whether to accept a job offer.
Take a few weeks off in between jobs to allow yourself to prepare for your next job (interviewing, signing a contract, researching the location and finding housing).
How to Earn a Master of Occupational Therapy Degree
The Master of Occupational Therapy program at NMC is designed to provide graduates with the technical background, therapeutic interaction skills and critical thinking needed to work as a skilled occupational therapist with clients in a variety of healthcare settings, including private residences.
The on-campus and online hybrid format combines classroom learning, research assignments, lab work and fieldwork teaching formats in a six-semester, 24-month program.
When on campus, students learn in the occupational therapy lab, which features a mock home environment consisting of a full kitchen, bath and bedroom. The mock apartment space is fitted with an innovative ceiling track system in which students can practice simulating high-level balance activities that prepare their client for independence in the home environment.
Students must have a bachelor of arts or bachelor of science degree in a related field from an accredited college or university.
Download the MOT Inquiry Packet for more details or contact admissions for information about deadlines and application requirements.