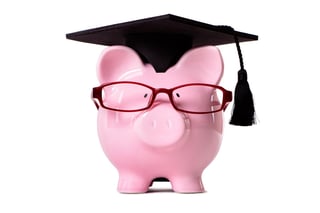 It's that most wonderful time of the year, when students everywhere cozy up to the fire with their favorite tablet in their lap, gather their documentation and fill out the Free Application for Federal Student Aid (FAFSA).
For some, the thought of filling out this annual application brings a sense of dread. But fear not, completing the FAFSA is easier than ever. And getting your financial aid in order will allow you to focus on your coursework without having to stress about tuition.
Today, I'll dispel some of the most common FAFSA myths that are out there. Whether it's pearls of wisdom that used to be true and are now invalid or information that's just downright wrong, this guide will prepare you to become a rock star of the financial aid process.
1. You Only Have to File Once
Most high schoolers fill out their FAFSA their senior year and then breathe a sigh of relief. "Phew, I'm glad that's over!"
Well, it's not over. In fact, every year you're in college, you'll want to fill out the FAFSA to keep yourself qualified for federal financial aid the following year. Income can change annually, and what was accurate one year may not be so the next. Plus, the government may alter its rules in slight or huge ways each year.
In order to get an accurate picture of your financial need, the government needs your FAFSA input on a yearly basis. There's no getting around it.
2. "I Won't Qualify so Why Bother?"
The FAFSA isn't just for high schoolers and the newly colleged. Anyone working their way toward a degree may qualify for financial aid. Don't close doors on your future without even checking to see what's behind them.
Transfer students can qualify for federal financial aid, and it's easy to add a school to your FAFSA if you are transferring mid-year.
Graduate students and adult learners also have something to gain by completing their FAFSA. All federal loans require FAFSA completion. You won't even be considered without it.
3. The FAFSA Does Not Impact Scholarships
There's a big difference between need-based and merit-based aid. But these are not mutually exclusive.
Many institutions, Nebraska Methodist College included, require the FAFSA in order to qualify for many if not all scholarships. In fact, our school recently moved to an upfront scholarship model that provides automatic merit-based aid if you have a certain GPA or ACT score, but only if your FAFSA is complete.
The reasoning is this: colleges have a certain level of funds set aside for scholarships. They aim to award that aid to those who have a demonstrable need combined with a track record of academic excellence.
Some students may get aid thanks to their incredible academic achievements, others to their family income, but the student with both may end up reaping the most rewards.
4. I Can Use the Same PIN as Last Year
In years past, each student had a PIN that he or she could use to access their FAFSA and update their information as needed.
To those who are relying on that PIN again this year: things have changed. Instead of a PIN, you and each family member who needs access to your FAFSA will get a unique Federal Student Aid (FSA) ID. The FSA ID is intended to simplify the process and beef up security on your account.
Don't wait to create your Username and Password under the new system.
5. Transferring IRS Data is a Chore
Getting all of your tax information into the relevant FAFSA fields used to be a painstaking process that required a lot of doubling back and checking your work.
That's not the case anymore. The IRS now offers something called the Data Retrieval Tool (DRT), which allows you to transfer the information from your tax return directly into the appropriate fields within the FAFSA.
To use this feature you have to file your taxes, and the earlier the better, as it takes up to three weeks (eight if you're still paper-filing) for the Data Retrieval Tool to have access to your information. Using the DRT can also reduce the amount of documentation you might be asked to provide later to your financial aid office.
6. Federal Student Aid Is a Dinosaur
Federal student aid, and the FAFSA itself, is constantly evolving and streamlining like never before. Financial aid has entered the modern age, and you'd be crazy not to benefit from the abundance of information out there.
Did you know that the Federal Student Aid branch of the government not only has a fantastic website that outlines anything a student might need to know, but they're also super-active on social media? It's true. Currently, they're only followed by about 367,000 people on Facebook, which is shocking when you think of the many millions of students who could benefit from their information.
Do yourself a favor: keep up to date on social media. These organizations have fantastic resources if you're willing to take a couple seconds to look at them.
7. You're A Lost Cause
You're not a lost cause! You don't need to embark on filling out the FAFSA and seeking out financial aid all by your lonesome.
The financial aid department at your college of choice is there to help you. If you're in high school, your counselors also know what's up. If you have questions, don't be afraid to pick up the phone or send an email. At our college, my team is happy to walk prospective students through the requirements and help out however we can.
Now that we've identified these myths, it's your turn. Fill out your FAFSA ASAP, and get started on your financial aid journey today.