Coo Coo Coo! Go Fightin' Doves!!! Coo Coo Coo!!!!!! Go Fightin' Doves!!!!
Nebraska Methodist College is thrilled to announce a brand new athletics program.
Starting this summer, the Nebraska Methodist College Fightin' Doves are set to storm fields, gymnasiums and boardgame dens across the country, competing in a total of 41 sports and competitions.
Rather than compete with other colleges within Nebraska in such sports as volleyball, basketball or even football, the college has chosen to go in a different direction entirely. Our students will be able to take part in activities that no other educational institutions in the area can offer. This provides Nebraska Methodist College with a valuable entry point to the world of college athletics, enabling immediate accolades for our students while still leaving the door open for future expansion.
Among the featured sports being heavily promoted in the New Year are Tasmanian Quidditch, minigolf and arm wrestling, a sport that some of our sonography faculty are particularly excited for.
"The arm wrestling competitions will be great for our students," said Dr. Donna Havenbrook, sonography instructor and head coach of both the Arm Wrestling and Advanced Theoretical Physics Slamdown teams. "Have you ever tried to hold one of the wands they use to conduct a sonogram? They're heavy as all get-out. I'll put one of my girls up against some lunkhead from an opposing college any day."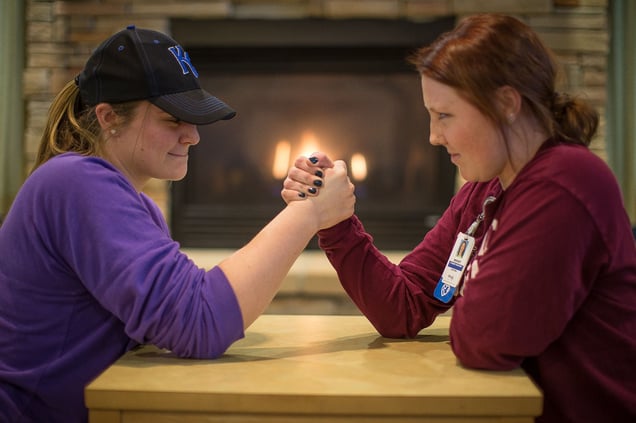 Not all sports will be quite so physically demanding. Students will be asked to use their brains rather than brawn when they compete in the Cards Against Humanity Whirlwind Trivia Challenge. That's right: NMC and a collective of other campuses from across the country have organized the first ever inter-collegiate CAH competition. Student Humathletes will be judged on their ability to create the most intriguing answer combinations in the fastest times, with the winning team having the opportunity to represent the United States in the International Games being held in Havana, Cuba the result of the trade embargo being lifted.
As you've probably surmised, Nebraska Methodist College can now come clean about its reasons for purchasing the former site of Billy Frogg's along Dodge Street. The space will be converted to the Cray Cray Energy Drink/O'Hooligan's Brake Pads Memorial Arena, giving the Omaha metro area yet another venue to host live concerts and sporting events.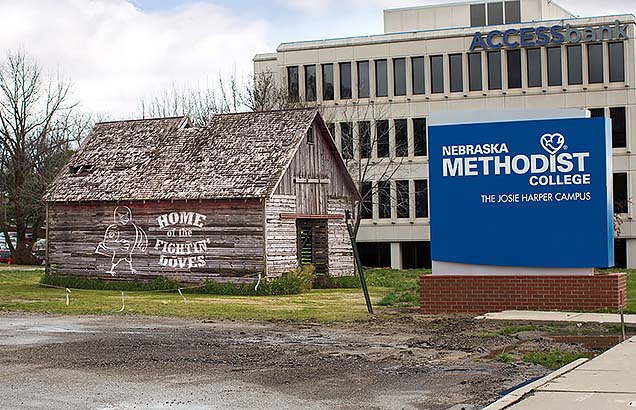 This three dozen seat venue will be the home field for many of the sports being unveiled this summer. Construction has already begun and is set to be completed in time for the Celebrity Impersonation Bowl happening in early June. Details of a kickoff event are upcoming.
Nebraska Methodist College is ready to bring its dedication to nursing and allied health to a brand new arena (literally). Stay tuned for more exciting developments on our website's athletics page, and check out the full list of all sports below.
Appalachian Tango Dancing
Staring Contests
Arm Wrestling
Leg Wrestling
Face Wrestling
Ventriloquism
Competitive Binge-watching
Battle of the Youtube Stars
Weird Science
Tasmanian Quidditch
Lawndarts
That game with two golf balls on either end of a string
Drone racing (track-based)
Drone racing (freestyle)
Hoverboarding
Lockpicking
Competitive Room Escapery
Militant Shuffleboard
Parkour
Minigolf
Megagolf
Competitive Tourism
Demolition Derby
Erin Brockoviching
Skateless Roller Derby
Competitive Eating
Beatboxing
The Iceberg Challenge
Jambalaya
Fear-mongering
Mastery of illusions
Frolf
Casino gamesmanship
Videogame speedrunning
Cards Against Humanity
Rollercoaster endurance testing
Sitting quietly in a dark room
Advanced Theoretical Physics Slamdown
Beykeeping (in which you keep track of the latest Beyonce developments)
Silent screaming
Competitive Zookeeping