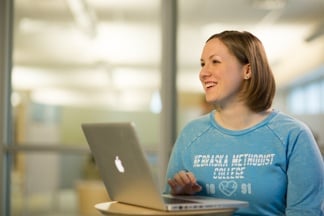 Doctors' offices are always buzzing, and if you'd like to be a part of the action (in very little time), a position as a medical assistant might be right for you.
But what does a medical assistant actually do, and how do you become one? Read on for answers to these questions and more in our latest edition of Careers 101.
A (Work) Day in the Life of a Medical Assistant
Medical assistants are an important part of the team at outpatient offices or clinics, and they can perform a lot of different tasks.
One aspect is administrative support: Medical assistants often check patients in, being careful to pull up the correct medical records and verify insurance information. They can also schedule appointments and work with billing and insurance coding. That kind of work is great for people who are detail-oriented, and because of the proximity to patients, it's also suited to people who love making personal connections.
Medical assistants are often the first to greet or care for a patient. If you're in that role, you can really set the tone for the entire office visit.
It's always important to remember that what seems routine to someone who works in a medical setting daily can be a scary situation for the people who walk in the door. Whether the patient is there for a routine checkup or because of a serious illness, they're probably more than a little nervous. A medical assistant's mood and communication skills put a person at ease for whatever procedure they're in for.
From Check-In To Healing
After the patient has been checked in, the work doesn't necessarily stop. Depending on the office, a medical assistant might:
Record a patient's medical history
Take vitals, like blood pressure, before the doctor begins the exam
Transcribe notes for the doctor
Administer a diagnostic test like an electrocardiogram
Take cultures
Assist with minor surgery
Remove stitches
Give injections
Draw blood samples
In this position, you'll be able to make a real impact and see the positive changes you can make to a person's wellbeing.
Start Your Career in a Year
The medical assistant program at Nebraska Methodist College has an excellent reputation in the Omaha area and comes at about one third the cost of for-profit programs. It's a popular choice for several reasons, but one of the biggest is the short timeline. The program takes just one year to complete, so you can get in, get prepared and get your medical career started.
The first three 10-week courses run Tuesday through Friday from 8:30 to 2:30, a timeframe that we've found makes it easier to balance school with a job or family commitments. In the last 10-week course, you'll work from 8 to 5 in a real outpatient medical office, putting the skills you've learned to use in a practical setting. With the classroom time, fully equipped lab and real-world experience, you'll leave the program ready to join the workforce.
There's a huge demand for medical assistants both locally and nationally. Recently, we've had a 100% employment rate for graduates, which is great news for anyone looking to get right into their healthcare career. There's a lot of job security and opportunity for growth in this dynamic role. Plus, most medical assistants work in offices with regular hours, holidays and benefits, which is another huge plus.
A New Role; A New You
Becoming a medical assistant is a great first step in a medical career and one that can even pave the way for further education. We see a lot of students who find they love the healthcare environment so much that they decide to pursue a nursing or allied health degree. At Nebraska Methodist College, we help students take that first step, providing the training and support they need to be successful in any healthcare setting.
Ready to start your career in the healthcare field? Whether you want to become a medical assistant or anything else, you might find our Healthcare Career Guide helpful. Download today for free!