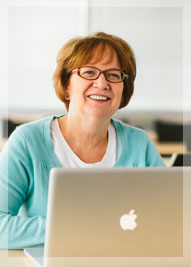 The life of a healthcare professional can get a little hectic. Balancing work and family life can be a challenge in itself, leaving little free time on the schedule.
Healthcare Degrees Offered Online
For that reason, Nebraska Methodist College offers several online degree programs for those looking to continue their education without pausing their careers. NMC's online offerings include bachelor's, master's and post-master's certificate programs in nursing and health professions.
Online degree programs offer students a flexible alternative to on-campus classes and are great for those who want to continue their education while working full time. Being computer savvy is an advantage, but not a requirement to being an online student. NMC offers students an assessment and an orientation to prepare them for online learning.
To participate in an online course, a student must have access to the required technology — first and foremost, an updated computer in good working order with a strong high-speed internet connection. NMC has an Educational Technology department that supports students with technology questions.
While online learning is different from classroom-based courses, it is an effective form of applied learning. In online courses, students are often tasked with taking information from readings and applying it to researched-based writing, projects and written discussion with their instructor and class. Online courses also encourage participation, which is typically part of a student's grade. Instructors often stimulate discussion within a class by posting questions that relate to the readings for the week, and students respond to the instructor as well as comments from their classmates.
Healthcare Degrees Online: How To Get Started
Applying for an online program at NMC is a convenient process. Students can typically complete an online application and submit the required application documents, including a resume, written statement and official transcripts, depending upon the program application requirements.
Online students have the same options to pay for college as on-campus students. Just like on-campus students, NMC encourages online students to complete the FAFSA to apply for federal financial aid, and students can apply for scholarships or take advantage of tuition assistance programs through their employer.Our business office can assist students in setting up a payment plan for those who want to pay as they go.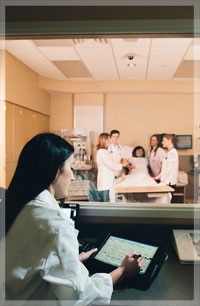 Nurse Educators: Special Opportunity
Students interested in becoming nurse educators have a special opportunity at NMC through the federal Nurse Faculty Loan Program (NFLP). Students pursuing nurse educator degrees may be eligible to receive loans that pay for tuition and fees each semester the students are enrolled in the program, fulltime or part-time. Up to 85 percent of the loan may be forgiven if the student serves as full-time nurse faculty for a consecutive four-year period at an accredited school of nursing following completion of the degree program.
"Our aging population continues to escalate the demand for more nurses. We need nurse educators to provide that training," said Linda Foley Ph.D., MSN, RN, director of graduate nursing programs at NMC. "This program provides the incentive and the financial support to recruit the professionals who will be charged with educating that next generation of nurses."
Talk With Admissions Today
For more information about our online degree programs, contact our Admissions department at (402) 354-7200 or info@methodistcollege.edu or request more information here.