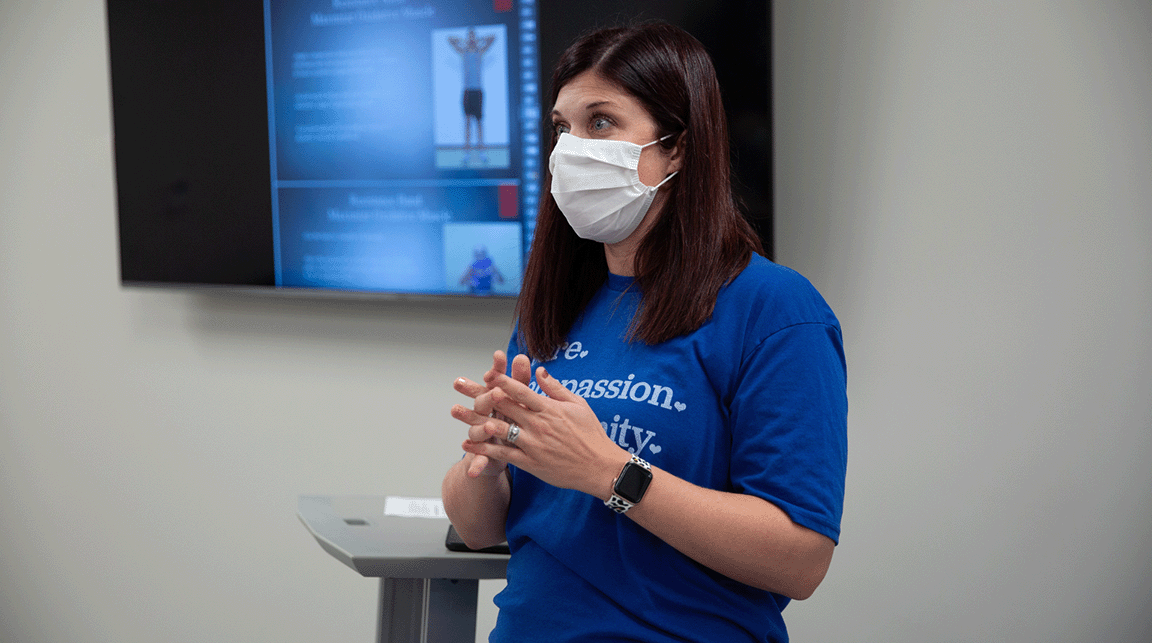 Occupational therapy is a growing, in-demand job. Earning a post-professional doctorate can help you advance your career, take on leadership roles or pivot into academia.
Benefits of an Occupational Therapy Doctorate
If you have a bachelor's or master's degree in occupational therapy, you can advance your studies with the Post-Professional Occupational Therapy Doctorate (PPOTD) at Nebraska Methodist College (NMC).
"The PPOTD program was designed to address the market needs of licensed occupational therapists looking to pursue career advancement through roles in clinical leadership or administration, and those interested in academic appointments within the occupational therapy profession," said Emily Barr, associate professor and occupational therapy program director.
A post-professional doctorate in occupational therapy will help you hone your skills in the areas of clinical practice, research, administration, leadership education and program development.
According to the U.S. Bureau of Labor Statistics, the median salary for occupational therapists (OTs) in 2020 was $86,280, with a projected job growth of 17% between 2020 and 2030.
The job growth is due, in part, to an aging population and their healthcare needs. The demand for occupational therapists means there will also be a demand for OT faculty.
"With the anticipated OT shortage in qualified OT faculty, the PPOTD program curriculum has established program objectives to prepare practicing OTs to meet this need," Barr said.
OTs holding a professional doctorate increased from 2.7% in 2010 to 9.6% in 2018, according to the American Occupational Therapy Association 2019 Workforce and Salary Survey.
Studying at Nebraska Methodist College
Graduates of the PPOTD program at NMC develop lifelong skills to advance their careers in occupational therapy, promote interpersonal relationships, communicate effectively, apply critical reasoning skills, exhibit leadership characteristics and more.
The PPOTD program offers two tracks - clinical leadership and occupational therapy educator.
Both tracks have a core curriculum, with each track including courses geared towards becoming a healthcare leader in a multi-disciplinary environment or for those who wish to pursue a path of becoming an academic OT educator.
"NMC is one of the few doctorate programs in the country that offers leadership and educator tracks that are geared specifically for OT professionals," Barr said. "The PPOTD program intertwines NMC's organizational values of caring, excellence, holism, learning and respect through coursework, scholarly projects and interactive learning experiences."
The program provides advanced-level skills in clinical leadership and education that are not offered at the master's level, focusing on higher-level problem-based learning, critical reasoning and practical application.
The PPOTD program gives you flexibility for your busy schedule with 100% online classes. The courses are 10 weeks long with scheduled breaks every five weeks. The program can be completed in 24 months.
Class sizes are smaller than at other colleges, allowing for a more personalized experience.
Occupational Therapy Doctoral Student Testimonials
Carrie Griffin
"Over the years, I have contemplated getting a doctorate but never could decide which direction to take. I love the OT profession, so I did not want to be pulled away from it. For my schedule, the best option was the PPOTD.
"Since I have started the program, I am finding changes within myself as a therapist and as a lead in the facility where I work. The education I have had so far with Dr. Barr and Dr. Kimmerling has opened my eyes to new opportunities and areas of interest."
Kourtney Kincaid
"My hometown severely lacks pediatric outpatient therapy, and therefore, all the surrounding rural areas do as well. It is a large population that is in need of services. I decided to get my PPOTD to prepare myself to take on the leadership and responsibilities of creating pediatric OT services in my community.
I am already using what I have learned in the first semester to start advocacy and networking to begin the process of bringing more pediatric OTs to my hometown. I am currently in the works with two businesses that are interested in adding pediatric OTs to grow their business and provide further quality services to the community.
Overall, it has inspired me, and provided me with tools to go a step beyond entry-level and the day-to-day job for a specific company. I have my full-time job, but I am also networking and advocating for the profession in local areas that lack the quality services that should be provided to people."
How to Apply to the Post-Professional Occupational Therapy Doctorate Program
Applicants must have a bachelor's or master's degree in occupational therapy from an ACOTE accredited occupational therapy program. A GPA of at least 3.0 on a 4.0 scale is required.
To be considered for admission, you must submit an application, three professional and/or academic references, a written statement, a resume, official college transcripts, a copy of NBCOT certification and a copy of current state licensure/certification.
Once all application materials have been submitted, you'll complete a professional consultation with an NMC representative.
NMC accepts applications for the PPOTD program throughout the year for both the January and August start dates. Applications will be reviewed upon receipt, and students will be notified of their application status by letter or phone.
Contact admissions@methodistcollege.edu with questions.