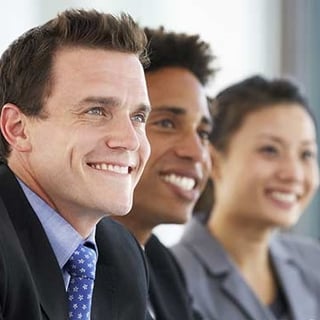 Healthcare is a business.
It's a unique business, one that's primarily about helping people in need but that also relies on revenue. Because of that, the healthcare world needs leaders who are capable of addressing challenges at a system level while still making an impact on individuals at the patient level.
Nebraska Methodist College recently unveiled its online MBA in Healthcare program, which will debut this fall. This didn't occur by happenstance.
When I met with other officials to talk about what sorts of programs we should offer in the coming years, we were forced to ask a lot of questions. We analyzed the interests of students, the obstacles faced by health systems and the areas of growth that would need a steady stream of professionals to fill demand.
During this process, a Healthcare MBA kept coming up, and it quickly became clear this was the right fit for NMC. Below, you'll see the thinking behind this exciting program, and in the process, I hope you'll also see the reasons you might want to earn this degree.
1. You're a Healthcare Professional Who Wants More Opportunities
Oftentimes, a person who has spent years or decades as a nurse, a technician or a practitioner of some kind will seek out a job that offers a different sort of challenge. Maybe you want to get away from the clinical portion of care or you just want additional responsibilities.
Without an upper level degree, it could be tough to take on an executive role. The MBA in Healthcare allows you to demonstrate to other leaders that you're equipped with a healthcare skillset that also translates to effective management.
If you're looking for additional responsibilities in healthcare, that position in management could be easier to come by with an MBA.
2. You're a Businessperson Who Wants a Healthcare Job
On the opposite end of the spectrum, maybe you have no clinical experience at all but are still interested in healthcare. If so, you'd be a perfect fit for this program.
I hinted above at the challenges unique to the healthcare field. Not all business programs are set up to address these challenges. Running a hospital system can be quite different from managing other kinds of commercial enterprises. With plenty of MBA programs available, you need something unique if you truly want to enter healthcare from the management side.
Our MBA creates effective leaders because it combines proven managerial techniques that cut across multiple industries with those processes and insights that apply specifically to healthcare. With that kind of background, you should be able to seamlessly transition your business skills to a healthcare setting.
3. The Affordable Care Act Changed the Game
It's more important today to specialize in healthcare within your degree than it was even a few years ago for one very big reason: the Affordable Care Act.
If you're not equipped with knowledge that reflects the requirements of the ACA, it will be difficult to prove your capabilities within a healthcare setting.
Billing processes are more complicated than ever. Coding is different. New policies need to be implemented. Recidivism of patients can lead to immense budget shortfalls for hospital corporations.
Executives all around the country are in the process of taking measures that will allow them to stay solvent over the next few decades. This gives each and every institution the opportunity to revitalize their operations and dramatically improve care for patients, but getting to that point is no easy feat. An MBA in Healthcare provides intelligent individuals with the right solutions to the problems they'll face during this transition.
4. It's a Great Entry Point to Numerous Organizations
I apologize if it seems like I've been hospital-centric thus far. Hospitals are but one of many types of organizations a Master of Business Administration in Healthcare provides entry to.
Health insurance companies need people skilled in business. So do clinics, long-term care facilities and even governmental organizations associated with healthcare.
So if a hospital isn't your ideal locale? That's okay, because it's only the beginning of where you can work with this degree.
5. It's the Logical Progression From a Healthcare Management Bachelor's Degree
It's no coincidence that we'll be launching the MBA in Healthcare at the same time as our Bachelor of Science in Healthcare Management.
The BS in Healthcare Management is a program that serves traditional students, even though it's set up in a way that's also friendly to those participants who aren't coming straight out of high school. It provides an entry pathway to persons who want to get into healthcare but feel they belong somewhere besides the clinical side.
The MBA in Healthcare is different. It's meant for persons who already have some experience in a healthcare setting or have some education in management. As such, it's a logical progression for those who have taken the BS and see themselves moving even further up the management chain.
We're truly excited about the possibility of helping future healthcare managers as they climb the career ladder.
6. The Online Format Is Perfect for Working Professionals
We know that many people who pursue their Master's degree will have family and professional commitments. An online program offers a certain degree of flexibility that wouldn't be there otherwise.
The other added benefit is that it allows us to offer the degree throughout the entire country. Supply and demand in one area may ebb and flow, so having an online MBA lets us always be providing education to persons in parts of the country where demand is on the rise, serving anyone who feels they're ready for new challenges.
7. It's More Than Just a Business Degree
What separates Nebraska Methodist College from other MBAs is the same thing that separates us in other disciplines: our heart.
The compassion we emphasize to our students is something we fully intend to apply to this MBA program. Just because you're not in clinical rotations at a hospital doesn't mean you can't make a difference to patients.
We'll be approaching education from the perspective that the things you do at a management level ultimately can help not just your organization but the individuals whose lives you touch even if you don't directly see the results.
I truly believe that, when compassion informs your every move, from policy-making to management techniques, you'll become a better business person, and whatever organization is lucky enough to hire you will become better too thanks to your skills.
That's the Nebraska Methodist College difference. And it's the final reason why an MBA in Healthcare is worth pursuing.