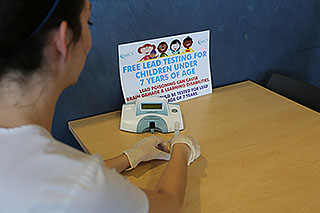 The Center for Health Partnerships (CfHP) branch of Nebraska Methodist College is always on the lookout for ways to improve the health status of members of the community.
Recently, the CfHP developed a program that aims to fill a crucial gap in healthcare access and education in a large portion of the Omaha metro area. Lead poisoning continues to threaten children and families in their own backyards, but for years, there hasn't been an organization that has gone out into the community to offer testing services to kids in need.
That all changed over the past couple months. We're proud to announce that, through a partnership with the Douglas County Health Department, Nebraska Methodist College will now operate eastern Nebraska's only mobile lead testing unit.
Read More